Retran® – a new clear tube solution using redundant drinks bottles
Responding to the growing pressure to offer environmentally acceptable packaging Bell is delighted to launch Retran®.
This product joins the Jetran® family which provides the world's leading solution for clear tubing.  This is produced using PET film which includes up to 70% post-consumer waste derived from redundant drinks bottles.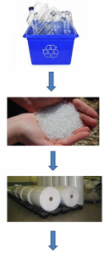 The bottles are collected, sorted, cleaned and processed into PET flake that is then converted into rigid film to make Retran®.  The polymer manufacturer has certificates of conformity that confirm the waste source and content.
The material has been trialled extensively and the results show this material is as strong as the PET film used to make Jetran® tubing and clear folding boxes.
The crystal clear transparency is maintained as only good quality bottles are used from approved sources.
Retran® can be supplied on cut lengths or on reels.  The film thickness varies from 200 Micron up to 400 Micron.  The Retran® tube can be formed into round, square, rectangular, triangular and hexagonal shapes.
Bell will be offering a standard range of Retran® with over 300 available shapes and sizes.
The new product will be commercially available in Q1 2018.

Typical application areas include window fashions, hardware & DIY products, pharmaceutical and promotional packs.  In addition the material used to make Retran® is certified for direct food contact making it suitable for displaying food and confectionery products.  Retran® packaging can also be produced in a BRC accredited facility if required.
For samples and more information please contact the Bell offices on + 44 (0)1582 459292 alternatively email info@bellpackaging.com.