Product packaging is one of the most important factors in getting your products sold. It's the potential clients first look at your brand so consistency is key. But with all the different options available from bespoke to off-the-shelf and everything in between, how do you choose the option that would be best for you?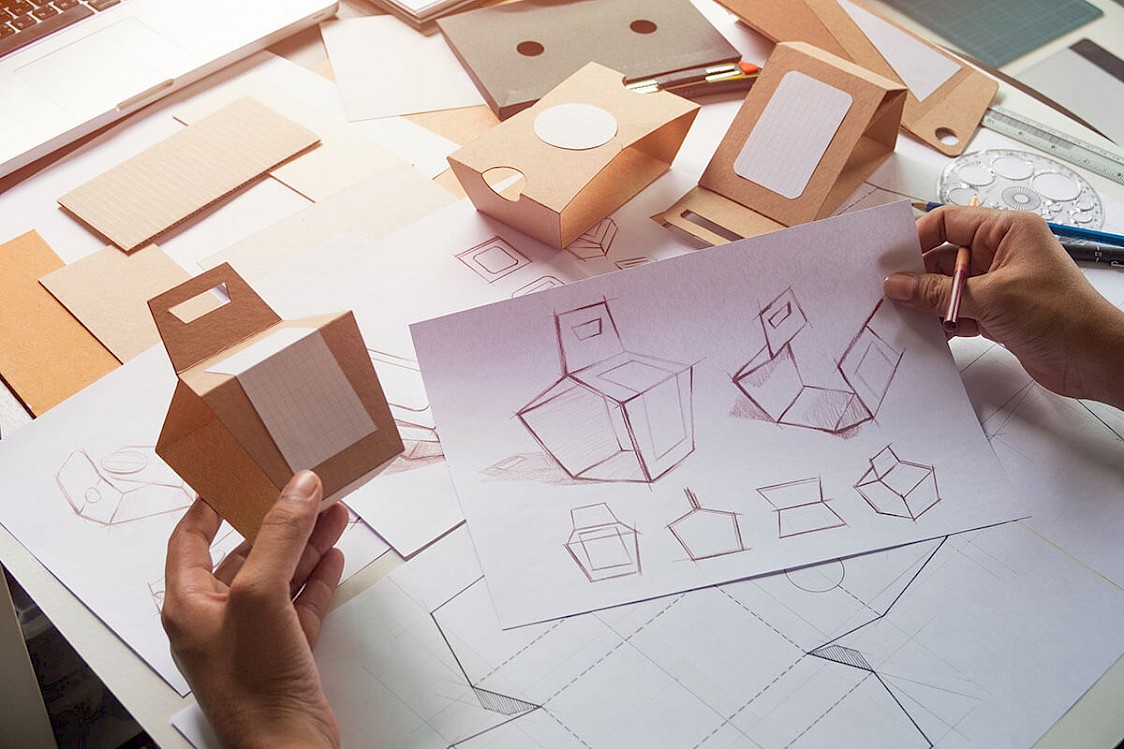 Why listen to us?
Founded in 1972, Bell Packaging Ltd have gained vast experience over the years in the product packaging space developing modern solutions with an almost unlimited range of choice when it comes to packaging your products. Our solutions such as Jetbox® are 100% recyclable and provide many different advantages over the traditional mailing tubes or traditional post. We've taken time and put our products through continual development to make sure that they meet our environmental policies so you can rest assured that you're doing your bit in the fight against climate change. In this guide you'll find some of our best tips for sourcing and implementing strong, modern product packaging that is recyclable and showcases your products in the best light possible.
Before you start
As with any project, before you start there are a few things that need to be considered before you start jumping right, as tempting as it can be! As much as you might think it is, looks aren't everything - especially in the case when handling food products. In circumstances like this, the packaging holding the product needs to meet various regulatory standards to make sure that it's going safe for use.
Our Retran® solution, which is an excellent clear tubes option, is produced in a BRC accredited facility, meaning it complies with new government legislations, and so is ideally suited for use when direct food contact takes place. It can also be used for many other applications such as to present giftware, stationary and much more.
It's also at this point that you need to consider what the product is, begin to research around the target market for who might be buying the product as well as how it's being bought. For example, if you're selling a product that your average consumer is buying in a supermarket, bold colours, a strong brand and a clear window might be on your list of requirements to make it stand out against the rest of the competitors it's sat alongside. However, if you're only primarily selling your product on the internet, then you'll want to consider stability in the packaging for shipping and going for a lower-cost, opaque solution with the ability to add product images on the listing instead of advertising through the packaging itself - more on this further down.
Bespoke vs Off-the-shelf
There are two, very different, approaches you can take when sourcing a potential solution for your packaging. These would be to go with either a bespoke solution - designed and produced from the ground up catered to your exact requirements, or an off the shelf option from a selection of pre-made solutions you might order.
Cost is going to be the biggest deciding factor between the two and whether or not you should commit to having your packaging designed from scratch as opposed to sourcing an already available option. A bespoke packaging solution could potentially cost you more but the trade off will be packaging that matches the enthusiasm of your product and it means that when it comes to displaying your product on a shelf alongside competitors, you have complete reign over how it's displayed instead of relying on a cardboard box with your brand name on it to drive sales.
Packaging design
Great! So you've decided to go for a bespoke solution to show-off your product in the best light possible - now where do you start? The first thing you should research is the industry and other products that might be similar to yours or appeal to the same market. Chances are that these products would have also gone through the same research phase and so it gives you a good opportunity to learn from their development and expand on it.
Brand identity is another very important feature of bespoke solutions. Things like colours, font imagery that fit your brand need to be considered in the design of your packaging to ensure that it falls inline with the look of your brand. If this doesn't happen, customers may not recognise your product and so might opt to go for a competitor. Maybe your brand isn't recognised by many yet, but by building your packaging portfolio around your brand you'll begin to create a universal look for your products that loyal - and hopefully new - customers will be attracted to.
Our in-house packaging design team have worked on hundreds of different solutions for an extensive range of product types over the years and so our experience puts us at the forefront of being able to provide solid, sound advice on the development of your packaging. We work with you from the very start to establish brand identity and design your packaging around that - keeping you in the loop at every step to make sure that the ultimate solution is nothing short of perfect.
The different layers
A common misconception with packaging design is for people to only think about what's on the outside of the product - the layer that the customer sees. This is where you'll have your graphics and brand logos along with product information and whilst it is an important factor in the design and production of the solution, it isn't the only layer that needs to be taken into consideration.
The inner layer of the packaging also needs to be designed and manufactured around the product. For example, imagine you're selling a new tennis ball - a state of the art product that nobody had ever seen before. You might want to opt for some circular packaging that fits around the ball perfectly so there is no wiggle-room for it to move about in transport. However, whilst that could be a viable option, if you need to store 1000+ of these in a warehouse stacked ontop of each other - you can imagine the difficulty. So with this in mind you then opt for a square box to wrap the product so that everything can be neatly stacked. But now your precious tennis ball will be bouncing around in the box as it's being transported and might arrive damaged. That's where another, inner layer of packaging would come into effect. Some products require additional support to be made inside of the packaging to ensure that the product remains safe during transport whilst not compromising on the ease of shipment/storage along with the aesthetics of your product on a shelf.
Prototyping
Now that you've done your research, it's time to move onto the practical stuff! When you have decided in your mind for how you want it to look, got some designs together - maybe you've worked with our packaging design experts - and are ready to take the next step, it's time to prototype.
Some companies will offer a sample service - we certainly do! This means that you'll be able to get an accurate idea of how your packaging is going to look before you commit to purchasing a large stock. It's at this stage then that you will have the opportunity to select a range of different materials and experiment with your options before you lock-in your final choice. At Bell Packaging, we have a wide range of different packaging solutions available from transparent Retran® solution, all the way to our 100% recyclable Jetbox® options.
When you have these samples you need to consider any design tweaks that you might want to make. This is the time to be making these amendments before the designs go off for final production because making changes down the line could will incur extra charges!
Production
Fantastic! Now you've gone through all your research and prototyping you're ready to send the final versions off for production. Every company will operate differently in terms of options when it comes to minimum quantities but at Bell Packaging we are very flexible regarding the quantities we produce and will work with you to ensure you get exactly what you need. We work to manufacture your packaging and prepare it to send off for housing the products. Our facilities enable us to scale production as required so we'll be able to grow with you as your business continues to build a bigger customer base. As a general rule, the larger quantity you order the lower the cost per item so consider this carefully deciding how much packaging to order.
So, what makes good product packaging?
There are many different factors that go into making sure that your product packaging is fit for purpose from the initial research phase, ensuring that the direction of the design falls inline with how you expect to be selling your products whilst all the time maintaining brand consistency and ensuring you support your products in transit and display them correctly in store. Costs are also a factor to consider which is where the different between bespoke and off-the-shelf solutions apply.
Remember the packaging of your product is often the first time a potential customer will see your brand and product and so making that first impression count is as important as it'll ever be. It's easy to overlook good packaging design in favour for cheap and quick solutions but the payoff for spending time at this stage is well worth it in the long run.
Get started with your project!
At Bell Packaging, we have extensive knowledge in complete production with a vast variety of solutions from the initial design phase with our in-house product packaging design experts, all the way through to scalable production ready to package your products and show them off the world. If after reading through our top tips you're looking for a helping hand, or, you've got everything you need already and want to get started with production get in touch with our specialist packaging team today!